2.5 Hours Superfly Ziplines Time
2.5 Hours Snowmobile Time
Fly & Ride Combo Winter
Ready to Fly & Ride?
Craving adventure? The Fly & Ride combo is for you. First, explore frozen lakes and enjoy the views as you drive through snow-covered evergreens leading to impressive mountain vistas, led by one of our professional snowmobile guides. After you've driven through the forest, time to soar above it with Superfly Ziplines and move through stunning wilderness landscapes with speed, excitement and friends. The Fly & Ride combo is the best way to experience all aspects of the Whistler backcountry.
First Stop
Superfly Ziplines
Superfly ziplines combines the exhilarating feeling of soaring through the air with the breathtaking beauty of the Coastal Mountain range. Our zipline unique system allows two guests to ride side-by-side, each on their own cable during this incredibly scenic experience. The excursion starts with a ride up to the first line of our course where each of our dual zip-lines are connected by a network of trails and boardwalks with a warming station along the way. A must-do in Whistler!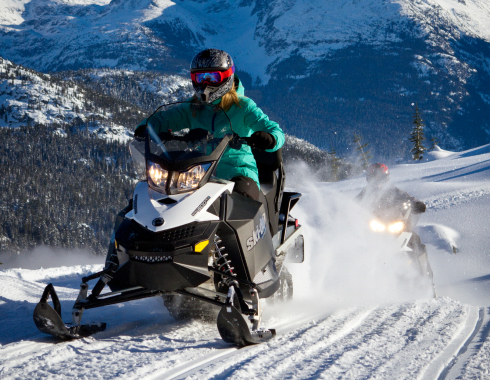 Second Stop
Snowmobile Tours
Take advantage of one of the unique winter activities in Whistler and enjoy the thrill of a snowmobile ride through the pristine backcountry. Whistler's diverse terrain allows The Adventure Group to boast a reputation of having some of the most incredible snowmobile tours in the world. Our Whistler snowmobile adventures range from gentle family cruising to intermediate backcountry riding.
Experience a breathtaking morning adventure into the backcountry, as your snowmobile makes the first lines through untouched snow or on perfectly groomed trails. Journey through old growth forest in the calm after daybreak, passing frozen alpine lakes to stunning viewpoints. This one-of-a-kind adventure is the perfect way to start your Whistler day. Beginner and intermediate options available. Children 12 and under are free on the beginner and family tours.

Departures

First Stop at 8:30am

Duration

2.5 Hours Activity Time

1.75 Hours Ride Time

For true off-roaders. This tour will have pilots and co-pilots grinning from ear to ear as they explore the wilds of Whistler's backcountry. Our skillful guides will lead you to the many jewels of our vast tenure. Just be sure to keep them in sight, as the breathtaking scenery offers up quite the distraction, no matter what seat you're in.

Duration

2 Hours Activity Time

1.25 Hours Ride Time
Combo Details
Combo Options

Tours

There are two options for snowmobile tours as outlined above and on the activity detail page, including Wilderness Ride and Fresh Tracks. Choose the tour that sounds right for you.

Difficulty Level

Each tour has a minimum age for children according to the difficulty level. Private tours are recommended for younger snowshoers and their families.

Beginner tours are recommended for newer snowmobilers and children under X years of age.

Intermediate tours are recommended for newer snowmobilers and children above X years of age.

Location & How to Get Here

Cougar Basecamp

Please check in at our basecamp 10 minutes before your scheduled tour time. Follow any map app to Sixteen Mile Creek Forest Service Road, Whistler BC, just a 10 minute drive north of Whistler Village. After turning off the highway at our large wooden sign that says Welcome to Cougar Mountain, a short uphill drive through the forest will take you to the basecamp. Complimentary parking is available at the venue.

Safety & Requirements

Requirements

You must be a minimum of 16 years old and have a valid driver's license to drive a snowmobile. For Superfly Ziplines, kids must weigh between 60-250 lbs (27-113 kgs.)

Safety

You must wear one of our D.O.T. certified and regularly inspected helmets. Personal helmets are not permitted. Department of Transportation (DOT) certified helmets meet or exceed Federal Motor Vehicle Safety Standard 218, the legal requirement for a helmet to be used on public roads.

Tips & What to Bring

Tips

Tours will run in all weather conditions unless it is unsafe.
Please meet at Cougar Mountain Basecamp 10 minutes before your tour time.
Our snowmobiles have automatic transmissions. A quick riding tutorial from your experienced guides will have you riding with confidence and answer any lingering questions.
Dress as if you were going skiing: warm layers, winter jacket, snowpants, warm gloves, and boots.
Browse Our Various Activities
Winter Vallea Lumina

Snowshoe Tours

You don't need to be a skier to enjoy all our mountains have to offer!

Triple Play

THREE activities for one incredible price! Call us to book!
Are you prepared?
Everything you need to know before you embark.
What our Guests are
 Saying
The name says it all!

Living under Covid, it can bring along extreme boredom and random sulking in the vass restrictions. I came across The Adventure Group and just had the most amazing time. The Ride & Fly combo was just breathtaking.... The staff is super friendly, easy to get along with and really make you feel secure on each event. Definitely am coming back 100%

Daydream0136

Zipline & RZR Tour

Had a wonderful experience with TAG Whistler. Just walked in early morning during our stay to book the ride and fly combo which was a good deal. The staff was very young and friendly. They were very careful about safety during all the activities and let us enjoy things at our own pace. All in all , a must do activity if you are in Whistler.

Astha G

Fly & Ride Combo - Awesome!!!

From calling in to reserve our spot prior to arriving to the time we stepped off the bus the staff were all excellent! Pleasant, friendly, wanting to chat to know about yo, so you enjoy your adventure. We did the RZR in the morning which was great fun and got nice and dirty by the end! Then we got a ride up the mountain to start the Superfly Zipline......WOW so much fun! Long rides and fast speeds with incredible views of the mountains!!!! We are all ready talking about going back in the winter to do the Superfly again with maybe some snowmobile fun!!!! Cant wait to get back! Thank you to all the staff, we had a blast!!

Mike883

Canada